Rainbow Guides Celebrate 21 years With Gifts of Sunflowers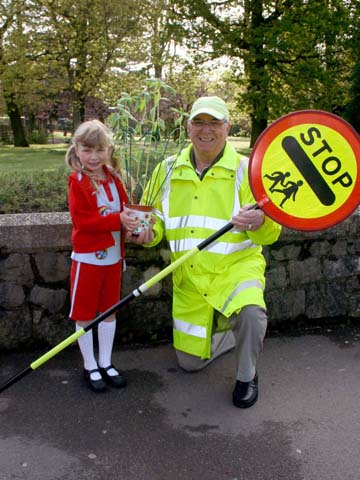 Rainbows, the youngest section of the Girl Guiding movement. To raise awareness in the community, the girls (Aged 5-7 yrs) planted Sunflower seeds. They took them home and watered them, and now, several weeks later they are giving them to the community to enjoy. At Blackfen Rainbow Unit, the girls drew up a list of members of the local community that they would like to present their plants to.  The list included teachers, older neighbours doctors and religious leaders.
In our picture, 6 year old Jessica Moss a member of the Blackfen Rainbow Unit presents her surprise gift to Lollypop Man Roy Whitehead, outside Holy Trinity C of E School in Burnt Oak Lane, Sidcup.
Roy, aged 75 said :"It is a lovely gift, and Jessica was able to tell me all about Rainbows and how they grew their plants.  I will find a sunny spot in the garden and make sure it thrives"
Rainbow Guider Alison Hope said afterwards :"Girlguiding UK has so much to offer girls of all ages, from Rainbows (5-7 yrs), Brownies (7-10 yrs) Guides (10-14 yrs) and Senior Section (14+).  Many go on to be Young Leaders in the movement, and in turn help to bring Guiding to the next generation."
Picture by Derek Hope, Kent Photonews-Sidcup