KANDERJAM 2007
The Alpine Link to the World Scout Jamboree to celebrate 100 years of Scouting
27th July – 8th August 2007 At 6pm on Thursday 26th July 2007
15 Guides, 2 Young Leaders and 5 Guiders filled a coach with equipment and kit. We were making our way to Kandersteg the International Scout Camp in Switzerland to join in KanderJam. We travelled overnight via Euro Tunnel and arrived at Kandersteg at 11.00 am. It had taken 16 hours and we arrived in beautiful sunshine. There were Scouts everywhere and later discovered we were the only group of Guides there. We were each given a KanderJam scarf, which had to be worn at all times, We wore both our country scarf and the KanderJam. The opening ceremony was on the evening of Sat 28th July. We all wore our blue polo shirts and sweatshirts with our badge on and made our way to the sports field opposite our site where we joined 1800 scouts. We were in the middle of the proceedings and watched as the flags from 40 countries made their way to the stage and we were welcomed in the language of each country in turn. The Scout Flag and Kandersteg Flag were then raised and KanderJam declared open. Everyone stayed on the field where we danced and joined in songs from other countries. Leanna (one of the leaders) tried to teach them Alice the Camel but I think they were not too sure what she was on about. One of the favourite songs was the Banana song, which was requested many times afterwards for other scouts to learn.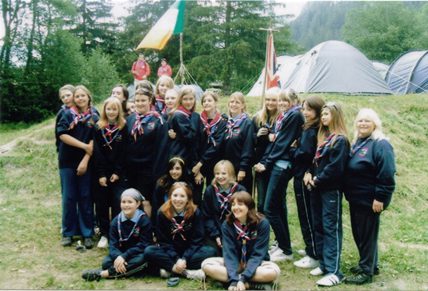 On the following days we had a programme of activities.Sunday 29th July – Abseiling and Climbing day One group went off by Cable car and hiked to do the Beginners Climbing Course at Winteregg. Another group went Abseiling. One group went Indoor climbing. One group did Low Ropes and one group went Mountain Biking. The afternoon we did crate climbing, not as expected with two crates but with one crate, which you balanced on each corner to get higher with. We managed thirteen crates.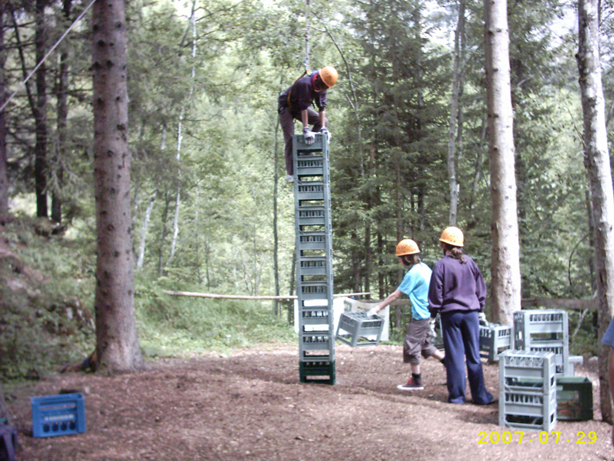 Monday 30th July – 100-Year Day. Different crafts. Friendship bracelets, leather crafts and Face painting to name a few. You could talk to the Jamboree in Chelmsford via Radio or make a flashing badge. The talent show at the campfire circle was in the eveningTuesday 31st July -Trip day. Two groups, one to Berne and one to Trummelbach Falls and Interlaken. The evening was set as quiet due to the early start the next day. Wednesday 1st August -Scouting SunriseUp at 4.45am we left the site at 5.30am for the hike up to Lake Oeschinensee arriving at 7.30 am. As the sun came up over the mountains a group of scouts made their way into the (very cold) lake whilst parachutists flew down over it. There were Scouts from all countries everywhere. Speeches were said and we all made our promise looking forward to the next one hundred years of Scouting (and Guiding!). We then made our way back down the path looking back at the Lake as we left, noticing the waterfalls and scenery as we descended to the main park opposite Hotel Bernerhof in Kandersteg village. We sat down exhausted for lunch. Suitably refreshed we joined in the games provided on the field. Inflatable table football, where the girls were the footballers and grass skiing. At the Ice Hall we tried indoor climbing. In the evening there was a BBQ at the Military field followed by a parade and concert. We finally got to bed at about midnight after a brilliant display of fireworks. Thursday 2nd August – Eco Day. Not an early rising day but did manage to make some bricks out of paper and hug a few trees blindfolded. After lunch we went for an Evolving Eco Hike (in the rain) We looked at how the Alps were made and where the glaciers had been. Friday 3rd August – Hike Day. One group did the Cheesery Hike and one group the Schwarenbach Hike. This evening we did some badge swapping with a group of scouts from California. Saturday 4th August – International Day. A large group went to Italy for the day. The rest of us stayed at camp and as the sun was out dried every bit of clothing in sight. The afternoon we walked to the Military Field and played Volley ball and parachute games. This was the evening for the International Scout Disco at the Ice Hall. They managed to get 1800 scouts in one hall. We arrived back at 1am after what seemed a very long walk. Sunday 5th August – Free Day. We walked to the village, rode up in the Chair Lift, walked to Lake Oeschinensee for lunch and had a go on the toboggan run. International Campfire this evening. Monday 6th August – Service Project and Pool Party. No Project for us this morning so it was camp tidy up morning and in the afternoon Pool Party. This evening was our International Display. Our idea was a plate of fish and chips fridge magnet made out of foam. Tuesday 7th August -Camp Pack Down. It poured with rain. Tents were taken down wet and trucks piled high with wet bags and bedding rolls. The coach arrived at 8pm and we loaded it with all our gear and equipment. The closing ceremony was outside the main Chalet. After speeches and flags there were fireworks to end with. We left at 10.30pm after many farewells and slept most of the way back. We arrived home (in the sunshine) at 11.30am. Tired but knowing we had been involved in something we will never forget.
Jenny Pearson
Assistant Leader
GLK KanderJam