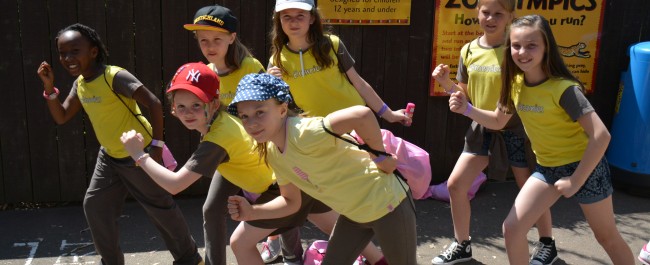 GLK Zootastic at Drusillas Zoo Park
Take:-
1,400 Brownies
300 Leaders
41 coaches (plus two spares just in case!)
1,700 very pink goodie bags
Fantastic weather
And you've got GLK Zootastic
On 21st June GLK Brownies headed en masse to Drusilla's Zoo Park to celebrate the Big Brownie Birthday.   18 months of planning had gone into the event and it went like a dream. Drusilla's had called in all their staff and volunteers to ensure there were enough staff around to ensure the smooth running of the day.
The girls all had animal spotter books and zoolypmic challenge books to complete.  Challenges included how loud they could scream, how long they could stand on one leg and how quickly they could run between two spots.
At the end of the day we gathered together to present a bear (sporting the Zootastic badge) to the Brownie that submitted the winning design and to sing Happy Birthday. Whilst everyone sang 100 Brownies stood up holding a foam candle each.
Everywhere you looked there were happy smiling Brownies.   The girls were a credit to their leaders and GLK.
We received compliments about the girls from Drusilla's staff as well as members of the public.  The following was received from the Drusilla's volunteer team:-
On behalf of the volunteers at Drusillas, we would like to congratulate all involved with the visit on Saturday.  As volunteers we often interact with visitors on a more personal basis than most others in the park, rarely do we witness such good behaviour, especially within a large group such as yourselves. The leaders were in control, sympathetic to individuals in their group, polite and helpful when asked to make space for other visitors. The Brownies were fabulous! Engaged in what they were shown and told, polite and respectful to others and best of all happy. Rarely do we see a group without one or two difficult members but not one was identified in your group!!!     It was an absolute pleasure to chat with girls and leaders and wonderful to see so many smiling faces! Congratulations for a job well done and Thank you for making our working day so enjoyable.