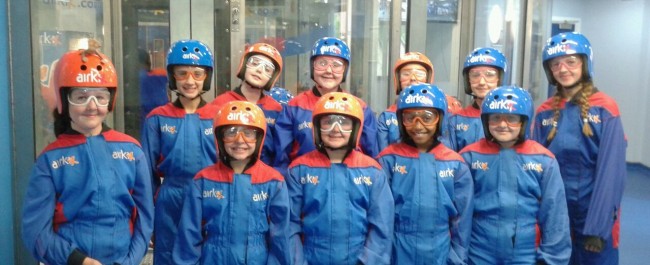 Goddington Guides go Skydiving
On Saturday 19th July, Goddington Guides took to the air when they tried their hand at indoor skydiving. Take a read of this poem about the day:
On a rainy summers day, in Orpington town,
A group of guides met, ready to be turned upside down.
Catching the train to London, then on to Basingstoke they went,
To try indoor skydiving, a special end of term event .
A quick Ten Pin bowl, as we had time to spare,
Before going to Airkix, and taking to the air.
Safety briefing first, and learning hand signs,
Then time for the flight suit, what was going through our minds?
Will I like it, Will I fly,
Will I turn up side down, Will I die?
But then it's your turn, no turning back now,
Clench fists, bend arms, into the tunnel and WOW.
Flying like superman, and with the greatest of ease,
Exhilarating and exhausting, it brings you to your knees.
A slight straightening of the legs, or bending the arms,
Keep your chin up and you fly like a charm.
Looking round the group, on the faces of us all,
You can see is big smiles and grins that say 'this is so cool'!
Two girls and one leader, all got enrolled,
A time and place to remember, a story to be forever told.
Thank you to Jack Petchey and our girls who were stars
This experience we shared was one of the best yet by far.