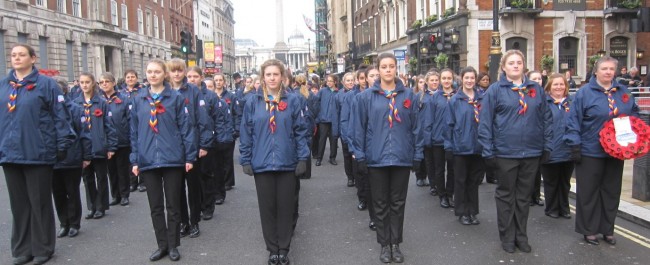 GLK march at the Cenotaph on Remembrance Sunday
By Anita Munns, GLK County Commissioner 
Sunday 9th November dawned very early for the 28 members of GLK taking part in the Remembrance parade at the Cenotaph.
The group stayed overnight at the Travel Lodge in Sidcup and spent Saturday evening having a final marching practise in the underground car park.    We had had two evenings at the TA Centre in Bexleyheath where two young Air Cadets taught us how to march.
We left the hotel at 7 am on Sunday morning and headed to London and Whitehall.
Once we were lined up the girls had the chance to talk to the veterans standing beside us and to hear about where they fought.   We were at the back of the parade with the other youth organisations and as each line of veterans moved off everyone clapped them.
Finally it was our turn and we set off down Whitehall to Parliament Square and then round to Horseguards where Prince Andrew took the salute from the Parade.   It was very humbling when we entered Horseguards to have the veterans clapping the youth organisations.
It was an amazing atmosphere and we didn't expect so many crowds once we reached the end of Whitehall but all the way round to Horseguards there were crowds of people clapping as we passed by.
All of the participants felt
very honoured and privileged to be part of the event.   The girls were fantastic and a credit to their units and GLK.