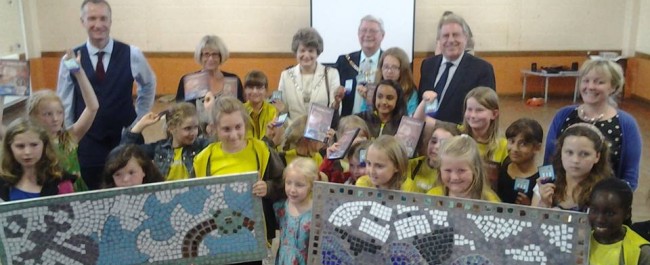 Crayford Brownies learn history of Sir Cloudesley Shovell
1st and 5th Crayford Brownie units have been involved in various activities set up by the Crayford Town Archive Society teaching youngsters in the area about Sir Cloudesley Shovell who was a celebrated Admiral of the Fleet of the British navy in the late 1600's and who lived at May Place in Crayford. The project celebrated the 300th anniversary of the Longitude Act.
The girls visited Westminster Abbey to see his tomb and helped make an animated film telling his story. We were also visited by an artist involved in the project who helped the girls design and create a mosaic as a memorial which we have been presented with. The girls also entered designs for a cloth badge which has been made and presented to them.
The project finished with an evening event attended by the Mayor and Mayoress and our local MP, in which the animated film was shown to us all and actors performed a show telling Sir Cloudesley's story.