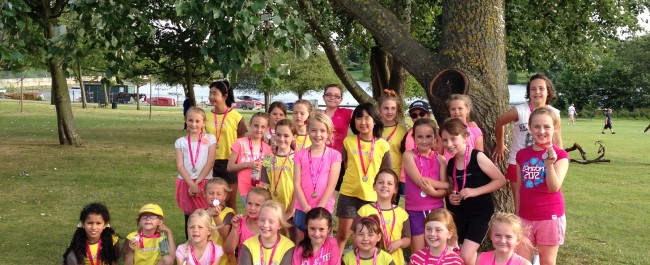 Barnehurst Brownies hold Race For Life
6th Barnehurst Brownies held their annual Race For Life at Danson Park, Bexleyheath on the evening of Wednesday 9th July. 

The route, from the Boathouse, around the lake and up the hill past the Mansion before heading down to the Boathouse again, is 2km. 

The Brownies and Leaders, with some parents, brothers & sisters, had the option of walking, jogging or running the route once or twice. Other parents & grandparents marshalled along the route.

The evening ended with a family picnic: sandwiches, sausage rolls (made by Maddison's Bakery – a brownie parents' local business), cake & a visit to the ice cream van for 99s!

As always, this event was well supported by Brownies and their families. This year we raised £83 for Race for Life, which we will Gift Aid, as well as sponsor money for pack funds which are still being collected.