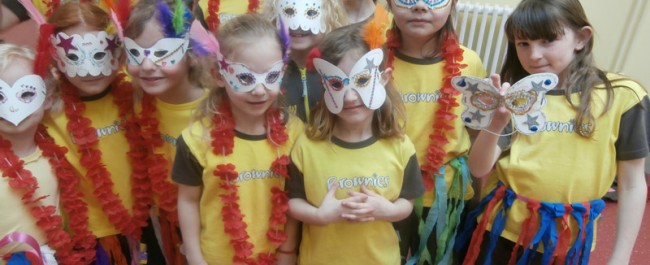 Bexleyheath carnival
On Sat 22nd March, 170 Brownies from the Bexleyheath division came together for a carnival to celebrate their 100th birthday.
The girls arrived at 9.30 and were given flower garlands colour coded to the group they were going to be in for the day.
They took part in 5 sessions through out the day which were Dance, singing, circus skills, Drum Jam and a costume making session where the girls made grass skirts and masks.
By the end of the day the girls were all dressed up in carnival outfits and came together for the finale. A selection of the girls showed off their Drum Jam skills and played Samba music.
All the 170 Brownies then did the dance they had learnt together and then sang the pop song 'Happy' which they had learnt and finished with happy birthday to Brownies.
It was a great day for everyone involved and there were a lot of happy faces going home with a badge to celebrate the day.