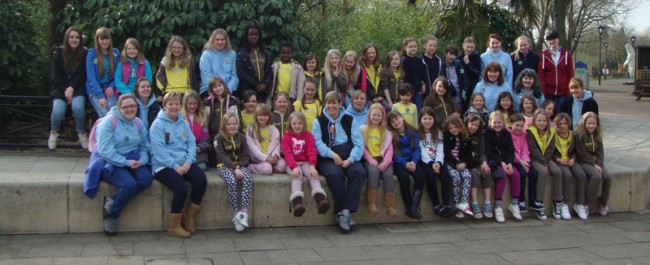 Biggin Hill go to London Zoo
BEDBUGS 29th March 2014 – Sleepover at London Zoo
Brownies from Biggin Hill went on a sleepover at London Zoo. In total, three were 36 Brownies; 3 Young Leaders; 10 adult Leaders and 5 Guides who were Brownies when they booked.
"We were looked after by 5 members of ZSL staff, who treated us to quizzes around the BUG house; games; show and tell about a few of the insects; story time; a torch light tour around parts of the zoo to see which animals were still awake; and that was all before bedtime.  Lights out at 11.30 pm – silence, but by 5 am(ish) the Lions began to roar again.  We cleared our belongings out of the BUG house, leaving them at security, and continued to the restaurant for breakfast – what a choice we had for breakfast.  Finally we were taken around more of the zoo and through the 'rainforest' where we came face to face with little monkeys, birds, and a sloth high in the trees.
"We would highly recommend this adventure to all our guiding friends. Thanks to ZSL for a great Big Brownie Birthday Stay Away."
BEDBUGS 29th March 2014 – Sleepover at London Zoo



This started as an idea for a unit's adventurous sleepover.  Then as we learnt more about ZSL's sleepovers we realised that if we could get enough interested members to attend we could book an evening purely for ourselves, so we decided this would be an excellent Brownie Birthday adventure for our district.
When we first booked the age range was stipulated as 8s and over, but ZSL changed this so we could include our 7 year olds.
A lot of emails when back and forth to finalise every detail.
We were all told to have a good lunch before we left home.  We met at 5.00pm to board the coach.  Everyone had to bring a sleeping bag and mat, usual toiletries, change of clothing, packed tea and lots to drink, torch and camera.
We travelled up through London and arrived a little late (rush hour traffic!) about 7.20pm.  Our hosts were waiting for us at the East Gate.
We all filed in and were lead through the zoo to the BUGS, (Biodiversity Underpinning Global Survival), which is home to over 140 different species ranging from spiders, fish, mole rats to anteaters, who live just outside. The whole of this exhibit was to be our home for the night.
The ZSL staff immediately took the lead.  We had a briefing about the facilities and arrangements, then it was onto the first activity.
The girls had a quiz to complete which meant they had to explore all around the BUGS exhibit to find letters and clues which finally spelt another animal.  When completed you returned to the leaders who rewarded you with a badge of a Big Gorilla!
Next a specialist of the BUGS creatures gave us a talk and showed us a giant snail, a millipede, played spot the camouflaged creatures – stick and leaf insects and finally a big hairy spider – Ahhh!
The girls were very good, although a little nervous but they still managed to ask lots of questions.
We then stopped for a quick snack and drink.  Tea and coffee was available for the adults in our party courtesy of ZSL.
When we finished, we had to cover all our torches with a red film so we would not disturb the animals we were to meet on our tour.
We were extremely luck that it was such fine weather, warmish and no rain.  We split into two groups and were lead around the Zoo.  We saw a sleeping Serval, flamingos, pelicans, bearded pigs, llamas, aardvarks, birds, dragons, wallabies, and many more.  The aardvarks were the most active as they are nocturnal.  They were as curious of us as we were of them, coming right up to the windows, stretching up high, getting their noses just over the top of the windows.  We found the wallabies with their feet in the air – did you know wallabies sleep on their backs!!!  As we came to the end of the tour we could hear the Lions roaring but we did not go over to see them but we caught a glimpse of two lionesses patrolling their area.
Back to BUGS and the girls were instructed to get ready for bed, teeth cleaning and laying out their beds.  Once on their beds the ZSL staff taught us some actions to go with the bedtime story.  Wiggle like larvae, buzz like a swarm, wave like a queen, fill your pockets with pollen, etc.  Then as they read the story we had to join in with the actions.  Each person received a ZSL magazine for taking part and then it was settle down and lights out.
Amazingly everyone seemed to go quiet, even the Lions.  Although it is an open planned area, there are several alcoves/sections, so we spread the age ranges into different areas to give a little privacy.
I believe the Brownies, Guides and Young Leaders were unaware of the little visitor who came to one of our guiders during the night.  Fortunately it was not one of the exhibit animals because instinct took over, resulting in a quick swatting with a trainer.  Squish!!!
At about 5 am the Lions began to roar again.  This particular weekend the clocks jumped forward so we lost a little sleep at this point.  At 6.45 am we started to get dress and pack up our bedding.  7.30 am we were led back to the East Gate to leave our luggage, then onto breakfast in the restaurant.  We had a wide choice for breakfast – cereals, fruit, pastries, porridge, yoghurts, hot drinks or juice – all included in the price.
About 8.30 am we were lead again around the zoo passing the sleeping otters, very active meerkats, and others to then go into the Rainforest exhibit.  Here we came face to face with lots of little monkeys, birds, and a sloth who was 'sleeping' high up in the treetops.   From here we moved onto the reptile house to see lizards, turtles, alligators and snakes. (the glass has been fixed since Harry Potter visited!).
The zoo was not open to the public until 10 am, so we had the place to ourselves with our personal tour guides.
The ZSL staff were kind enough to take our group photo on everyones cameras, then we had to say goodbye, as we were due to meet our coach at 10 am in the car park.
As Leaders we naturally took extra things to do 'just incase', but the whole evening was fully booked and well planned by the ZSL staff, so as Guiding Leaders we were able to enjoy the whole experience just as much as the Brownies, Guides and Young Leaders.
Thank you to all the ZSL staff and all the Biggin Hill Leaders who attended it was a FANTASTIC Stay Away.  Where shall we go next?