Bexley Civic Awards – Ethel Evans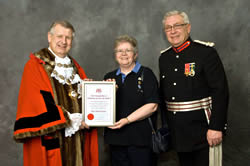 Ethel Evans has been the very popular Brown Owl or Guider in Charge at 2nd Blendon Brownies for over 31 years and the Assistant Guider at Blendon Rainbows for four years. Ethel has been a positive and major influence in encouraging girls aged from five to 10 years to participate fully in the Guiding movement and to continue their membership into their teens.
Ethel has encouraged these girls to try new opportunities, help with community events and charity fundraising, participate in creative projects and sporting activities and to attend residential trips and holidays. Above all, Ethel has taught these children to have fun in a relaxed and safe environment.
Described as a dedicated Guider, she is always cheerful, kind and friendly and always sees the good in other people. The greatest tribute to Ethel, who has to retire from Guiding this year because she has reached the compulsory retirement age, is that former Brownies in her care are now themselves following in her footsteps and playing an active role as Guiders.