Jodie Good 23.12.92 – 05.04.07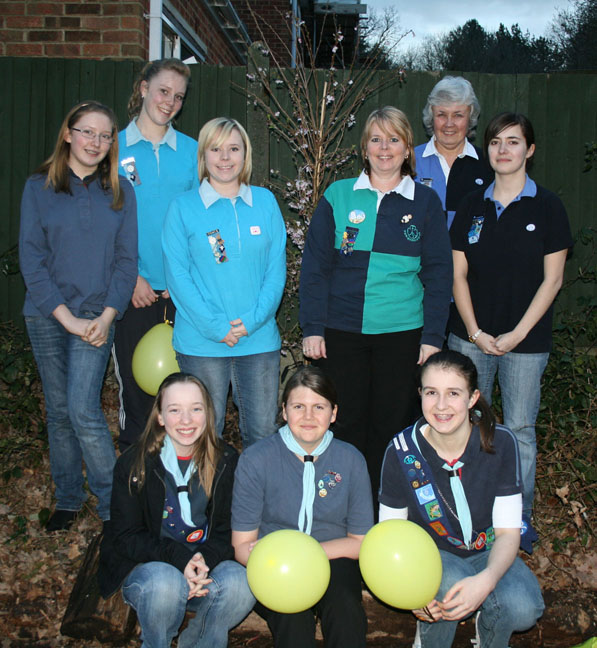 Jodie Good was a member of 1st Baldwyns Park Guides for nearly 4 years and a Brownie 3 years before. Jodie had special needs, but that certainly did not stop her achieving a great deal.
The first meeting, Jodie came to Guides with her Mum, Elaine and a carer. Elaine agreed to speak to the Guides about Jodie's condition and then answer questions, the questions lasted all evening!
We all had a great deal of fun with Jodie. At the end of our meetings we finish with "Guide Taps", if it was not sung well, Jodie would not react, so it was repeated until we got a beaming smile and laughter.
Jodie loved to join in with the noisy games, the louder the better. Her wheelchair was often pushed at great speed to win points for her Patrol, often on one wheel round corners and once crashed into the wall ——-but no harm done, in fact, she was beaming!
At the beginning of each term I would send a copy of the terms` programme to Jodie's Mum, so she knew which equipment to bring. Jodie always came dressed for the part, whether tramps evening, yellow theme or disco diva at the end of term, and for the other meetings her uniform was always complete.
Jodie attended Church Parades on many occasions and had even escorted the Guide flag. The other Guides were always encouraged to help Jodie, they took it in turn to push her wheelchair when we went out and took her to doors programme selling for our fayres. Jodie attended GLK` s Pontins weekend and even went trampolining. She visited us at Chigwell Row and went go-karting and in 2006 attended a weekend camp at Cudham. She slept in a tent for two nights and thoroughly enjoyed herself.
Throughout her Guiding life, Jodie gained many badges, adapted very slightly for her needs and became Patrol Leader of the Dolphins. We all feel very sad that Jodie is not with us now, but privileged to have been part of Jodie's life. We became very close to her family and the special people who were her carers.
On 1st April 2008 we invited parents and Guiders, together with Jodie's family and Carers to a tree planting ceremony in our grounds at Eden Road, Rev George Day and other members of the Church attended and said prayers. Afterwards we held tombola, raffle and delicious liquid chocolate on fruits, and teas and coffee. We raised £222 for Demelza House and hope to have a sponsored walk later in the summer to raise some more. It is our intention to make the area where the tree is planted, a quiet seating area.
Irene Beschizza
Guide Guider- 1st Baldwyns Park Guides