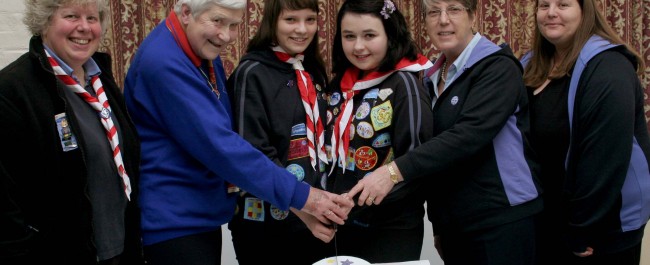 Baden-Powell awards for Sidcup Guides
By Derek Hope
Two Sidcup Girl Guides have received the Baden-Powell Challenge Award, the highest accolade a Girl Guide can achieve.
Amy Tregenna, 15, and Katherine Beeching, 14, both from the 4th Lamorbey Holy Trinity Guide Unit, worked separately and together to complete the many different challenges needed to achieve this honour.
After months of hard work and dedication, the pair were presented with their awards at a ceremony to mark the occasion, held at Holy Trinity Church Hall on 10 February.
Amy was presented with her certificate and badge by Mavis Forder, who was her Brown Owl when she was a Brownie, and Katherine was presented with hes by Margaret Lay, the Hurst Division Commissioner.
Among other things, the two girls made cakes and held a charity cake sale for Concern Worldwide and both took part in organising and helping at the 100th birthday party for the Brownie Pack.
Amy also Explored International Guiding, learned about water safety & first aid, created a Healthy Cookbook for Brownie Events, made a campfire songbook, attended Guide camps and holidays, took part in outdoor activities including skiing, swimming, golf, and water sports and in December she took part in a BP Challenge Adventure run by Girlguiding UK at Blackland Farm in Sussex.
Katherine Explored international Guiding and world cultures, learned about water safety, took up archery, worked on exploring different diets and cooked meals for her family. She took part in Guide camps and holidays and in the outdoor activities section she became proficient in skiing, swimming, golf, and water sports and took part in a BP Challenge Adventure run by Girlguiding Kent Weald in November.
Both girls agreed that the challenge improved their understanding of many aspects of life, gave them volunteering opportunities and felt that working for the award had been a positive experience for them.
Amy said : "I have been in Guiding for six years, first as a Brownie and now as a Guide. It has been a wonderful experience for me".
Katherine also said : "Guiding is such a positive experience for girls, we learn new skills, make friends and take part in adventures that make a positive impact on our lives and the lives of others".
Guide Leader Deb Bettesworth said afterwards: "We are so very proud of our Guides, especially when they show the dedication to improving their knowledge and the world around them that these two young ladies have shown. Both girls have always participated in all the Guide Unit events and both have been recipients of Jack Petchey Awards.  They are a credit to our unit."