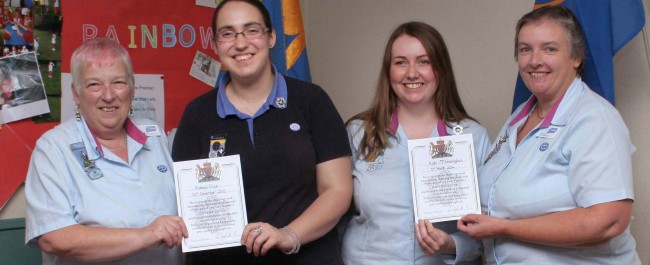 Sidcup West leaders achieve Queens Guide award
WORDS AND PICTURES BY DEREK HOPE
Two leaders from Sidcup West District – Kate McGranaghan and Rebecca Crisp – have achieved their Queen's Guide Award which was marked with an official County Celebration on Sunday (19th October) at Kemnal Scout HQ in Sidcup.
As the highest award in Guiding, The Queen's Guide Award  is based on the concepts of personal challenge and participation and is split into five sections:  Service, Outdoor Challenge, Personal Skill Development, Community Action and Residential with participants having three years in which to complete the award.
The two leaders have had very different journeys through Guiding and are both unit leaders at St Lawrence's Church in Sidcup, with Kate running the Guides and Rebecca taking charge of the Brownies.
Kate, 26, started her Guiding at St Lawrence's as a Brownie before moving on to Guides and after university returned as the Leader.
In order to achieve her Queen's Guide Award, Kate obtained her Guide Holiday Licence, joined a Regional Group in visiting the World Centre in Mexico, became the Regional Fundraising adviser, helped at the Bexley Food Bank and, along with Rebecca, organised, an exploration for a group of her peers to Cornwall.
In contrast, Rebecca, also 26, was neither a Brownie nor a Guide but answered a request for help whilst a student at Greenwich University and became a Leader with the Brownies at St Lawrence's.
Amongst other activities for her award Rebecca was selected for a Guiding Service Trip to Namibia, achieved her Brownie Holiday Licence, became a Mentor for a Hackney Young Carer and passed her driving test.
One thing which makes Rebecca's achievement even more special is that for a lot of the time she has been involved with Guiding in Sidcup, she has lived in Walthamstow and commuted to Sidcup, sometimes two or three times a week, by public transport. She now lives in Streatham and continues to travel to Sidcup every week.
Rebecca works for Girlguiding at Headquarters in London and works within the Events Team while Kate is a Marketing Programme Manager for Macmillan Cancer Support in Vauxhall.
Both Kate and Rebecca will attend the official National Presentation of their Awards on November 18th at Two Temple Place and will be presented with their awards by Chief Guide Gill Slocombe.