Janet Maskell – Bexley Civic Award
Mrs Janet Maskell
Nominated by: Mrs Irene Beschizza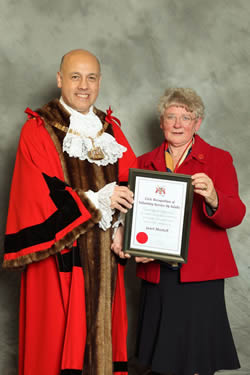 Janet has worked hard in her various roles with the Guide movement for over 40 years. Having retired as District Commissioner for Bexley Guiding when she was 65 years old, she is now the Chairperson for Sidcup Trefoil and runs the Guide shop at her own home selling badges, uniforms and books to the Guiders in Hurst Division, Bexley.
Nothing is too much trouble for Janet and she still continues to assist Guide units on a regular basis. Janet is also the Division's Adult Leader Co-ordinator and assists with the training of new guiders.
Janet is a dedicated member of Guiding and the lives of many young people have been enriched by Janet voluntarily giving of her time. She is an officially accredited Mentor for new Guiders who always enjoy learning from her wealth of experience and knowledge of all Guiding matters.
For over 40 years voluntary service with Guiding and Sidcup Trefoil, Janet Maskell was awarded for the Civic Recognition of Voluntary Service by Adults Award.