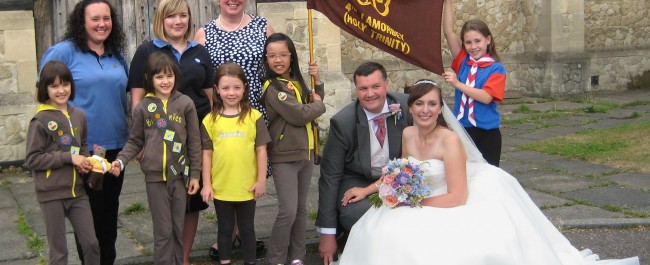 GLK guard of honour for Brownie leader bride
BY DEREK HOPE
GLK Brownie leader Louise Hope was married on Saturday (25th July) at Holy Trinity Church, Sidcup where girls from her 4th Lamorbey Brownie unit in Sidcup, as well as other Brownies and Guides turned out to provide a guard of honour as the couple left the Church.
Louise Hope (29) married oil trader David Matthews (31) and the reception was held at Eltham Palace. Louise is the only daughter of Derek and Alison Hope from Sidcup, and David is the youngest son of David and Bernadette Matthews from Eltham.
Louise said afterwards: "It was lovely to have my Brownies at the Church and it was so nice to share our day with children and teachers from Brampton Primary Academy in Bexleyheath where I have been a teacher for the past 9 years."
"My Brownies and Guiding friends sang a special number for me during the service. They must have been practicing in secret as I knew nothing about it beforehand".
Everyone in GLK wishes Louise and David every happiness in their marriage!