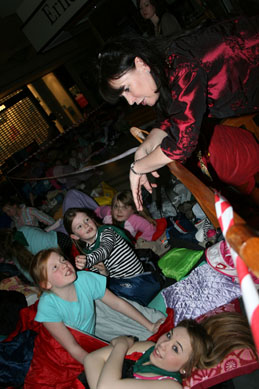 On Saturday, 8th March Bromley Methodist Guides took part in a Record Breaking Sleepover in the Glades.It was a huge event with 1,700 guides, brownies and senior filling the shopping centre!
When we got there everyone was ecstatic, the place was buzzing with excitment, there were many photographers there to record the sleepover. We slept on the second floor, close to MacDonalds, and spent the evening chatting, eating and playing games. Later we sang camp songs and that was fun and very loud! A magician came round on a unicycle and peformed tricks.
After midnight the Mayor of Bexley visited us. 1am was lights out but it was never really dark and the whispering of so many girls sounded more like shouting! It was good fun but morning came too soon and by 8am we were back at our Church hall for breakfast and later Church parade.
It was great to take part in such a big event, I will remember it forever.
Aimee
8th Bromley Methodist Guides
If you have a story to tell us about the Giant Sleepover, or anything else you or your unit has recently done, please send it to [email protected].