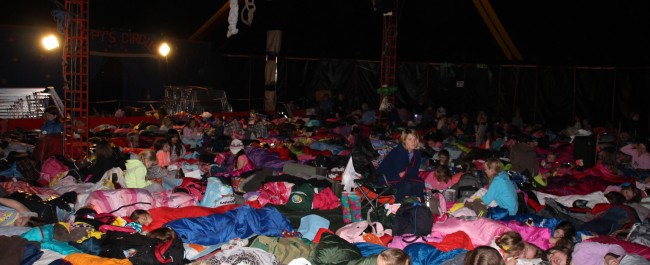 Erith and Crayford Division celebrate the Big Brownie Birthday
On Saturday 24 May, 290 Brownies from across Erith and Crayford Division came together to celebrate the Big Brownie Birthday in style!!
The girls and their Leaders arrived on 6 coaches at Cudham around 2pm and started straight away with two activities for their Circus Performer badge. The girls made yoghurt pot clown puppets and juggling balls from rice and balloons.
Just after 3pm everyone got settled to watch the Happy's Circus performance in the Big Top!! The Brownies favourite act was Happy and Pip the clowns because 'they were just funny'. After a special sing song of Happy Birthday for Brownies the show was back underway!!The second half included some audience participation and finished with the girls getting slightly wet thanks to Pip the clown.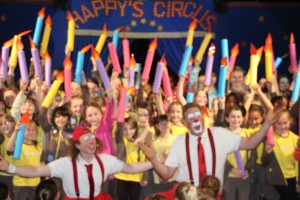 After the performance the Brownies took part in a wide game to collect Clown Around money for their dinner while the big top was being cleared ready for the sleepover. Dinner of sausage and chips followed by a campfire and hot chocolate meant the girls were looking forward to their bed for the evening.
Bedding out, pyjamas on and teeth brushed the girls were ready for bed. After what seemed like only a few hours' sleep the girls were up, dressed, packed and ready and raring to go.
By 9am the Brownies were joined by 140 Rainbows and Guides to continue the birthday celebrations. The girls took part in 3 hours of circus skills and had the chance to tightrope walk, stilt walk, plate spin, unicycle, hula hoop and much more.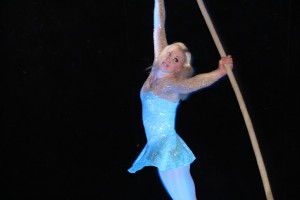 We said goodbye to the Brownies at lunchtime and the Rainbows and Guides got their own performance from Happy's Circus before heading home themselves.
A busy weekend for all involved, but a big Thank You to the core team for the organisation of the event and forensuring all girls had a brilliant time… I wonder what's next?