Applications open for World Scout Jamboree 2023 participants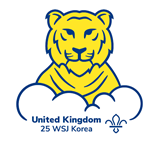 In summer 2023, more than 40,000 Scouts and Guides from all over the world will gather in SaeManGeum, South Korea for the 25th World Scout Jamboree. The theme of the event is Draw Your Dream and UK Contingent's aim is to Think Big, Dream wild. Act Together.
Girlguiding LaSER is pleased to open recruitment for young people to be a part of a patrol of Girlguiding members, who will join with 3 other scouting patrols to create an amazing unit who will spend 2-3 weeks travelling and living together as they attend the 12 day international camp and explore Korea.  This opportunity is available to Girlguiding members who were born between 22 July 2005 and 31 July 2009 and who want to explore the world, meet new people, learn new skills, develop their independence and make their dream happen.
We really want this Jamboree to be the most inclusive and diverse UK contingent and encourage members of the region to share this information widely with all Guide and Rangers Units and to all Young Leaders.
You can find out more on the website here including a flyer you can send to young people, the application form, and more general information
Applications close at midday on Fri 8th October.
Think Big, Dream wild. Act Together